The Narngulu to Mullewa Railway is approximately 100km long, in 2002 only grain trains used this section, in 2004 they will share the tracks with iron ore trains. There are no CBH facilities on the line, except at Mullewa. This means over 3 million tonnes will be potentially hauled over the line in a year.
A crossing loop exists at Northern Gully, the loop sits at the top of the climb from Narngulu and is 40km from Narngulu. A train order non-crossing station also exists at Indarra (between Northern Gully and Mullewa). This allows Control to break the section up further to allow flexibility in train operations, although trains cannot cross there.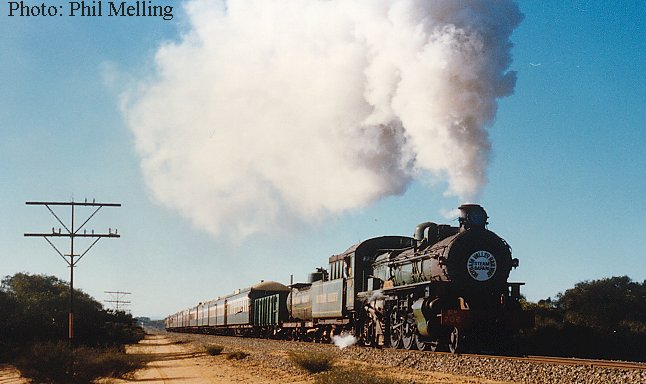 PM706 hauls an Hotham Valley Tourist Railway train towards Geraldton along the Mullewa line, the train originated in Perth via the now closed McLevie to Maya section of the Avon to Mullewa Railway. Photo taken 25 August 1996.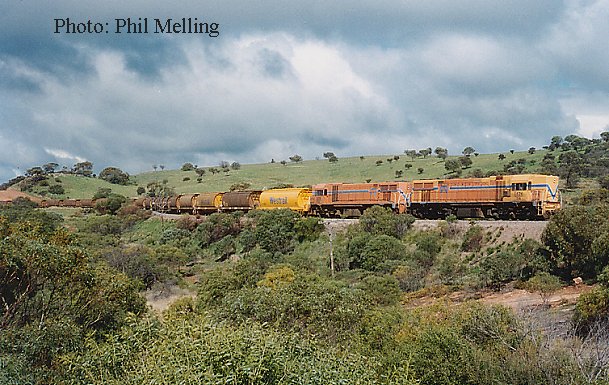 The section of line through Bringo is quite scenic in winter, coupled with steep grades and curves. Here we see DA1576/DA1575 descending with a grain train to Geraldton on 12 August 1995.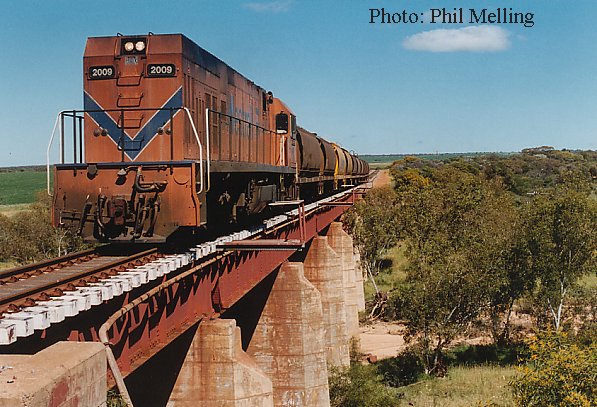 The largest structure on the line is the Eradu Bridge 50km from Geraldton. Here we see P2009 crossing the bridge with an empty grain train heading towards Mullewa on 10 September 1995.